Company
HISTORY

ORIGINS. Mandarina Duck, the Italian fashion company specialised in leather goods and travel items, was set up in 1977.

Ever since the beginning, the brand's icon has been the Mandarin duck - the cute, colourful traveller and lifelong mate. This makes it the perfect representation of an unstoppable desire to explore the many dimensions of style, design and colour, without losing sight of its peculiarities. Since its very first collection colour has been key for Mandarina Duck, with the boldly coloured UTILITY line launching in the brand's first year on a leather goods market monopolised by conventional and almost exclusively monochrome products. Season after season, the use of colour became increasingly important.

HISTORY

DEVELOPMENT. The company quickly achieved considerable acclaim on the world market and a significant presence on wholesale and retail channels. Over time the products, models and colours came to express the increasing amount of experimentation being done into new materials and original aesthetic and functional solutions. A constant eye on lifestyles led the company to anticipate or harness emerging trends: high tech and post-modern are the guidelines for its new products. Collections have to meet the constantly changing relationship between consumer and product: buying choices are increasingly dictated not only by necessity but by emotional impulses. The consumer is seeking a more personal relationship with his/her belongings; in addition to practical and functional requirements, products must have an all-round attraction and an emotional connection. It is to meet these requirements that collections have been created by an in-house team of designers constantly on the lookout for new sources of inspiration, forms and materials.

HISTORY

TODAY. In July 2011 Mandarina Duck was acquired by the E-Land group, a Korean company and a major player on the Asian fashion market.

E-land has continued to consolidate its presence on the European market and, with its acquisition of Mandarina Duck, intends to re-launch the brand on the global market, starting from the contemporary reinterpretation of its great key values.
The aim of a continuous research, is to offer easily understood, creative, authentic solutions in a modern, witty, informal style for demanding, curious, positive people on the move.
BRAND STYLE AND IDENTITY
Mandarina Duck is an innovative brand offering creative and original solutions with a contemporary, informal style to a demanding, curious, positive and on-the-move consumer.  It is able to offer an extraordinary level of functionality thanks to an unmatched combination of solutions and smart design, unconventional materials, original use of colour and painstaking attention to detail. The emotions channelled by the product are not purely aesthetical, but express an interest in finding functional, smart and original solutions.
The appeal of the collections goes beyond mere "form" to comprehensively involve the senses of touch and sight; these senses must be coordinated and channelled by a broader, global project that can perceive and act on cultural shifts and changes in taste.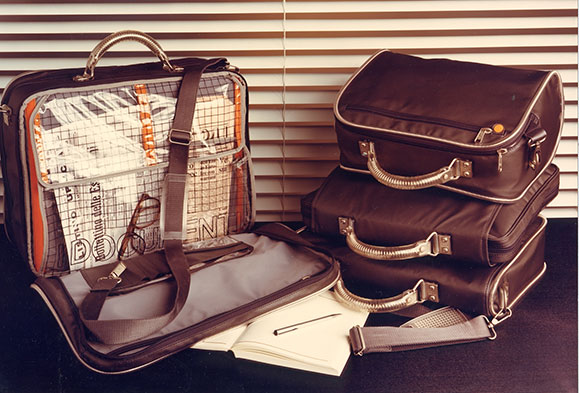 MD AWARDS
1989 >

Fortune Italy Mandarina Duck is picked as one of the most innovative companies of the 80's.

1996 >

Demoskopea Mandarina Duck is named as one of the legends of the last 50 years.

1997 >

European Textile Industry Meryl Award.

1998 >

GarnDesign Top design of the year.

1999 >

Fashion Epica Gold

1999 >

A&D & Young Design Award
2000 >

Guggenheim Enterprise and Culture Award For the Arts project Search For Art.

2002 >

8th International Achitecture exhibition in Venice Golden Lion award.

2003 >

Mario Bellavista Award Gold award plaque for the best Advertisement campaign and Silver award plaque for packaging.

2003 >

G-Mark Award

2008 >

Travel and Leisure Award Y's Mandarina Collection.

2014 >

Mipel-issima Tank case, 2nd prize for the most innovative product.


DISTRIBUTION
Today, the company's distribution is settled in worldwide owned retail stores in cities such as Barcelona, Berlin, Bologna, Dubai, Florence, Miami, Milan, Paris, Rome, Seoul, Shanghai and the wholesale  network includes more than 500 selective point of sales as well as concessions in leading Department Stores in Europe and Asia.
 Mandarina Duck also displays its products in important travel retail and duty free locations: among others, Rome Fiumicino airport, Milan Malpensa and Milan Linate airport, Bologna airport, Munich airport, Singapore Changi airport, Lotte and Shilla Duty Free stores in South Korea as well as China Duty Free Mall in Haitan Bay, China.
 The company partners also with a network of distributors in all major non-EU markets (including Australia, Thailand, Singapore, Indonesia, Vietnam, U.A.E., Turkey, Israel, Russia, Columbia, Mexico and a direct branch development in the first half of 2015 is foreseen for China and the US market.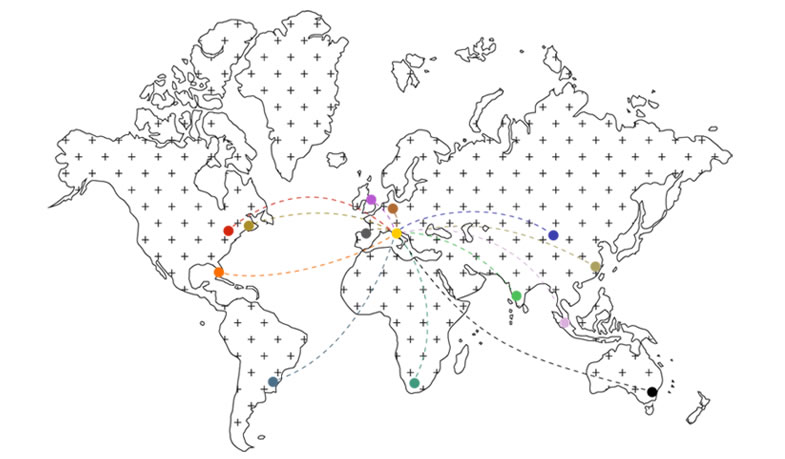 ACROSS THE WORLD
People who travel for business need tools that will make them stand out. People who travel for work need tools that are highly professional. People who travel for love need tools that can carry every kind of emotion. People who travel for pleasure need tools that can satisfy their curiosity.   We offer all this.